Small groups help people grow in their faith and build community. Our groups take place at different locations and have different lessons going on. Use this page to find a group that's right for you and then fill out the form below to get connected. We'd love to have you join us!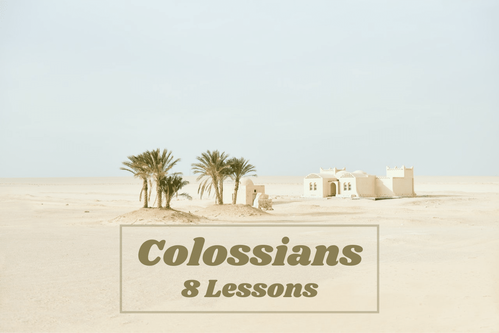 Leader: Chris Miller
Every Tuesday @ 6:45pm
The church of Colossians may have been the smallest numbers-wise of any other recipient of Paul's letters. Yet the content of this book is highly treasured and a bedrock for our understanding of our Savior. While the world around us descends into relativism, new age philosophies, and a liberal "everything goes" mindset, the book of Colossians is like a light in the dark. In it we see the most powerful and beautifully worded Christology in the New Testament.
Co-Leaders: Heidi Miller + Mary Wilson
Every Thursday @ 6:30pm
Join us for a study that shows how all of us---Marys and Marthas alike---can draw closer to our Lord, deepening our devotion, strengthening our service, and doing both with less stress and greater joy.
Co-Leaders: Tina Silvey + Melissa Scruggs
Every Thursday @ 6:30pm
The prophet Daniel faced unbelievable pressures to compromise his faith, lived in a hostile culture, and dealt with many temptations and threats. Many believers today face many similar situations. This study is comprised of two distinct parts. The first portion, from Daniel chapters 1-6, deals with Daniel's life as he faced the kind of pressures and temptations Christians encounter today. Daniel models how to develop enduring integrity in an enticing world. The second portion, chapters 7-12, explores thrilling prophecies from the time of Daniel through the second coming of Jesus Christ.
Co-leaders: Rudy + Jennifer Rosado
Every Sunday @ 5:30pm
The topic of this study will be determined by the group at the first meeting!
Co-Leaders: Javier Ramirez + Nathan Crandell
Every Tuesday @ 6:30pm
The topic of this study will be determined by the group at the first meeting.
Co-Leaders: John + Mary Wilson
Every Other Friday @ 6:30pm
Join John and Mary Wilson for dinner out and the study of The 5 Love Languages - The Secret to Love That Lasts! We will select a diner spot every other Friday at 6:30 p.m. Join us to learn how we can better understand the fundamental aspects of love and what true love looks like.
Leader: Ted Dinsmore
Weekly Meeting TBD
Jesus said, "The truth will set you free." Do you have the specific truth you need to really be free of specific temptations, worries, fears, hurts, or the effect of a trauma? Are you really experiencing the ongoing transformation God wants to give you, or has your journey in Christ plateaued or gotten stuck? Come join a few others like yourself who hunger and thirst for more, who believe there can be more, and are bold enough to actively seek more based on Jesus' promise "seek and you will find, knock and the door will be opened."

The topic of this study will be determined by the group at the first meeting.